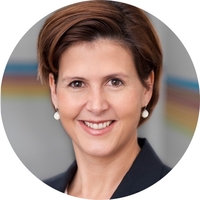 Rosmarie Steininger
CEO and Founder
My very personal motivation behind CHEMISTREE stems from four different beliefs and it gives me the wonderful opportunity to combine all these beliefs:
Unearth Untapped Potential
It may be partially due to my own biography – I find it very hard to bear if talent remains untapped and there is no opportunity to use this talent. Equally, it is hard to see opportunities being passed up because they were not spotted in the first place. In both my education, a 'continuation education', and working for the BMW Foundation, I gained first-hand experience how uplifting and inspiring it is to grasp opportunities, use talent and unearth untapped potential. This is what CHEMISTREE does.

Bring Together Different Worlds
Before and during my studies I gained insights into polar opposite worlds: Growing up on a hop farm in the Hallertau region of southern Germany and interning at Deutsche Bank, a background in small business and a work placement at Siemens, The House of Commons and Roland Berger. Following on from there, I worked at the BMW Group for eight years – I developed algorithms, managed projects and created opportunities. In the past six years, I have worked at both the Eberhard von Kuenheim Foundation and the BMW Foundation Herbert Quandt at BMW Group. In my time there, I designed and managed projects with positive impacts on society. I was also acting managing director in charge of strategy and finance at the Kuehnheim Foundation.
Resulting from my experience in these extremely varied backgrounds I am convinced that the most interesting things happen when people from differing backgrounds and walks of life come together and have meaningful conversations. But these things do not happen by chance. CHEMISTREE will help you do that.

'Excellence – Initiative – Responsibility' as Established Company Culture
The German Academic Scholarship Foundation, who I have a lot to thank for, and what they stand for are exactly what I think the ideal company culture should be: People will be driven to Excellence if they are given the chance to use their talents and strengths to their full potential. Initiative – generate new and innovative ideas – makes sure that what we do remains fresh and exciting (and we have a lot of ideas in store…). The basis of all this is Responsibility: Responsibility for oneself – use your energies wisely so you have enough for the next day. Responsibility for your company – everyone can, may and wants to take responsibility. Responsibility in society – don't be part of the problem, be part of the solution. This is CHEMISTREE's culture. And this is why we offer reduced rates to NGOs.

And Last but Not Least: Work Efficiently
As a working mother of two I hate unnecessary work. Bringing together more than 50 people in the right way is a lot of work that can be avoided. We use our experience and know-how to make sure CHEMISTREE's tools help you to work truly efficiently. We are constantly striving to make sure that we as a company are working efficiently in all areas, too – time is very important to us!